13 Reflections of Evil Trading Event at Walt Disney World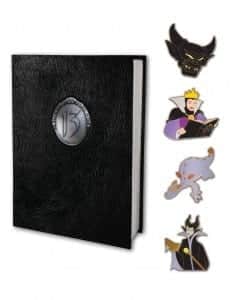 Summer isn't even here yet, but in the last week, we sure have been talking about Fall. At the end of last week, we announced the dates and ticket prices for Mickey's Not So Scary Halloween Party. People love that! I'm also learning, being in the Disney Business, how much people love Disney Villians! If you are one of those who thinks the Evil Queen is tops, or has a fancy for Maleficent, then this event just might be great for you!
Disney has announced the 13 Reflections of Evil Trading Event coming to Epcot's World Showcase September 13 – 15, 2013. At this event, you will find Event logo tees, a baseball hat, D-Tech phone cases, individual pins, jumbo pins, pin sets, original and limited edition artwork, sculptures, Vinylmation (even a few custom pieces), as well as a "lucky" ear hat. There is also a special Disney Design Group Artist Michael Sullivan's favorite…the storybook pin set, featured in the photo above!
This year, the event will take place over the course of multiple days, with pin and Vinylmation trading each getting their own dedicated day. There are separate packages available to attend the pin trading and Vinylmation events. Both events will include the opportunity to pre-purchase select themed merchandise designed for the event, trading activities, a silent auction, meet & greets with Disney merchandisers, artist signing opportunities, commemorative gifts and more. Craving even more magical experiences? Then add a Perilous Pin Breakfast or Villainous Vinylmation Breakfast to your itinerary if you are planning to attend either one of these trading events. Last but not least, if you choose to become part of the "Club" you will do so at your own peril, as it's sure to draw you to the dark side (dun dun dun!). Ticket information will be available shortly on www.ArtofDisneyParks.com, so keep watching.
Ticket sales and event registration were slated to begin today, May 8th, but in true Villains fashion, they have hidden the link to the magic portal that allows you to register because they refused to start ticket sales on any date but the 13th. So look to register for the event on the new date, May 13, 2013 at 13:00 hours (so spooky!) or 1:00 p.m. EST via www.ArtofDisneyParks.com.
**Thanks to Disney Parks for the info!**