Keys to the Kingdom Tour Part 1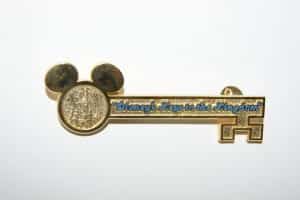 Three years ago my wife and I got the opportunity to take the Keys to the Kingdom tour that is offered at the Magic Kingdom. I say opportunity because with a 6 year old who usually accompanies us to the "World" we've never been able to take the tour because children under 16 aren't allowed. But with some help from the grandparents and a small monetary exchange we were able to enjoy a 4 day weekend by ourselves without our beloved ankle biter in order to experience this magical tour.
I did a little research prior to making the reservation as to what the tour entailed and I have to admit that it sounded pretty interesting. So I called the reservations number (800-WDW-TOUR) a few weeks before the trip to lock in a time on a Friday at 8:30 in the morning. I was told we could come in 15 minutes prior to the tour and that the park didn't open until 9:00. We got to the park the day of our tour and went through the usual baggage check. The cast member at the ticket turnstiles told us we could check in at Town Hall when we were ready. We arrived at 8:15 and decided to take some photos down Main Street before the masses arrived, because of this we got some pretty nice shots down Main Street looking at the Castle with not a soul in the pictures. After about 10 minutes of picture taking we went to rent a locker to store our camera and backpack because we were told they weren't allowed on the tour. At 8:30 we made our way over to Town Hall and checked in. We were given our name tags, our earphones and a menu to choose what we wanted for lunch at Columbia Harbor House.
After signing in we were instructed to the courtyard to the right of the Town Hall and meet up with the rest of the group which consisted of about 12 people. We were later greeted by Julie, our cast member guide. She did a quick introduction of herself and briefly told us how she came to work at Disney. She then asked the group to introduce themselves, where they were from and who their favorite Disney character was. Of course all the biggies were named, Mickey, Goofy, Minnie, and Donald.
The tour began on Main Street and Julie began by telling us how the Magic Kingdom was designed to be like a movie theatre. As you make your way through the tunnels under the train station it is a representation of curtains being lifted in a theatre. Along the way are the posters you see of different park attractions that'll be coming soon to you throughout your day in the park. As you walk down Main Street and examine the windows you'll see various names printed on them. These are to represent the opening credits of a movie. The first window on the right as you enter is that of the producer, Roy O. Disney.
As we made our way down Main Street she led us down an alley way off to the right and let us sit at some tables in the shade. Here she explained to us some of the smaller details that Disney undertakes to protect guest and cast members that we may never notice. Julie told us that all of the flag poles along the rooftops of Main Street aren't flag poles at all but are lightning rods. And that the reason that those flags aren't lowered at dusk is because they aren't flags, they're pennants. Another thing she pointed out was that when vacationers come to the "World" that most are in a "daze" and have tunnel vision. So the curbs were painted different colors than the sidewalks. This was done so guest could differentiate the curbs from the sidewalks. Next she explained what castmembers wore was a "costume" and not a uniform and that they were called "castmembers" and not employees. Vacationers are refereed to as "guest" and areas are know as "onstage" and "offstage". All of this vocabulary helps to keep the movie idea in focus.
Next week we head to Adventureland
Author:
ctucker773
Corey Tucker has been a writer, moderator, and an admin, amongst various other roles with the TMSM for over 8 years. When he's not playing with radiation at his day job at a nuclear plant, he can be found hanging out with friends and family and possibly planning another trip to Walt Disney World. If you frequent the site very often (or at least on Tuesdays) then you've probably heard of the world famous blog posting "Tuesdays with Corey", that's him. Every Tuesday he has a blog about foods, history of the parks or whatever he feels is pertinent at the moment. So if you don't currently read his blogs, please start. It's been known to change lives…really it has.