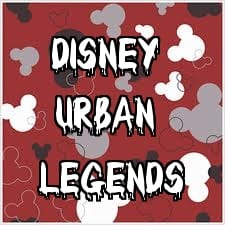 Last week, TMSM Members had a fascinating discussion regarding the various Urban Legends that have stemmed from Disney over the years. Some of the stories, I had heard before. Some, however, were really surprising, and even more surprising, the ones that were true! We have decided to put an Urban Legends tab on the site, under the new tab "fun stuff" that is coming. Until then, here are a few of the Urban Legends that have been swirling around.
The biggest tall tale, when it comes to Disney, is the story that Walt Disney was frozen in a cryogenic chamber following his death. The base of the story, was that Walt wanted to be preserved, so that one day he could return to life, once there was a cure for cancer, which caused his death.

In addition to the above story, there were also rumors that said "cryogenic chamber" is stored under the Pirates of the Caribbean ride at Disneyland.
Cinderella Castle in WDW can be disassembled or made to sink into the ground to protect it from natural disasters such as hurricanes.
There's a whole other park beneath the Magic Kingdom.
The Haunted Mansion, in both Disneyland and Walt Disney World, are actually really haunted. People say that guests have brought ashes of deceased family members to the parks, and spread them in the Haunted Mansion as a final resting place for their loved ones.
At Pirates of the Caribbean in WDW, there is a ghost of a former Cast Member who passed away during the construction of the attraction. Allegedly, if you don't say "goodnight" to the ghost, then the ride will break down, and not function the next day.

There is a basketball court inside the Matterhorn at Disneyland.

One of the images on the singing busts in the Haunted Mansion graveyard is Walt Disney.

Male Disney employees are not allowed to have any facial hair.
The plane used in 'Casablanca' is the same plane that can now be seen in The Great Movie Ride, at Disney's Hollywood Studios.

Donald Duck was banned in Finland because he didn't wear any pants.
The hearse/coach outside the Haunted Mansion in WDW was actually used in a John Wayne movie.
Disneyland's Skyway was permanently closed because someone fell out of it.
In the film Beauty and the Beast, the Beast has a tattoo.

Did I peak your interest yet? This is only the beginning of the different stories and legends that I have heard regarding Disney. You have to wait for our new section that's coming to hear the rest. I'm not going to say if these are true or false. I know the answers, but it's more fun to let people speculate and wonder, it keeps things interesting! If you know some Disney Urban Legends, and would like to have them added to the new Urban Legends section of TMSM, please send them in! To be continued…..