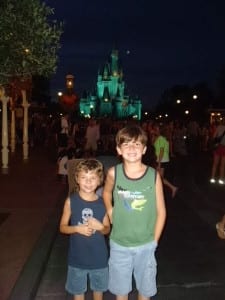 You have just spent your day walking around the Magic Kingdom. You're tired, but it's a good tired. Your skin feels a little pinchy from being in the sun all day. To cool off, and to take some last minute souvenir inventory, you slowly browse through the Emporium. Did you buy what you wanted to? Did you remember to get a little something for the neighbor who watched your house while you were away? How about the friend or family member who took care of your beloved furry family members? Heck, did you even get a new collar or food bowl for that same furry family member that you have missed? Sigh, it's almost time to leave. You gather your Disney bags (which we all know you won't throw away) and step out onto the street. A turn to the left reveals one of your favorite things, a lit up Main Street USA with a beautiful view of Cinderella Castle at the end.
The Castle is slowly changing colors, from red to purple, blue to green, and oh my, is it ever amazing. You stop and take it all in. The lights, the view, the excited Disney fans that are awaiting Wishes. A Cast Member walks up Main Street, selling all kinds of fun light up trinkets to make your evening a bit more special. It's an awesome site. All of it. Before Wishes starts, we see an image of Walt Disney himself on the Castle saying "To all who come to this Happy Place, Welcome." Then the tears start rolling. Our hearts begin to swell at all of the awesomeness that is Disney.

During Wishes, you watch in amazement, the fireworks shooting over Cinderella Castle are such a magical sight to see. At that moment, you are perfectly content and grateful to be standing on Main Street USA in your favorite place to be. If we're so happy, why the tears? Why are emotions on overload? There's a good reason for that. The tears are truly bittersweet. We are filled with happiness, yet have a bit of sadness as well, because we know it's all going to come to an end.
When the fireworks are over, and people begin to get ready to leave, your heart swells yet again. As you walk towards the train station, you stop. I know for me, I get that overwhelming feeling that I need another look. One more look at the Castle before it's time to go. I try my best to take a photograph in my mind, of all the magic that I see, so that I never forget being there at that moment. Then another tear runs down my face. Walking under the exit, seeing "See Ya Real Soon" is another bittersweet moment. "Real soon" is never soon enough.
It's time to take our tired selves, and walk up the ramp to the Monorail. It feels good to sit down in the air conditioning. The ride back to the parking lot is a bit somber. I try to reach my neck around, so that I can watch the Castle get smaller and smaller in the distance until I can no longer see it well. Usually by this time, I'm seeing the torches from the Polynesian Resort. The Monorail pulls into the station, and the doors open for the last time. My only thought is that I'm really, really going to miss this place.
It seems like waiting for our Disney Vacation's to come up takes forever. It's like watching paint dry. But once it comes, it seems to go by so fast. Although I'm sad to go home, I'm also feeling pretty lucky and grateful. Yes, we had a great trip, we made memories, we ate a lot of great food and saw some unforgettable things. It's always magic. This sums up my last evening at the Magic Kingdom. I hope I'm not the only one who cries those bittersweet tears, I'm sure I'm not!