Snow White ~ The Original Disney Princess!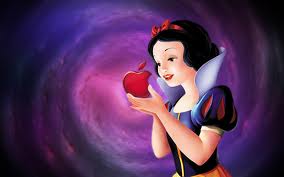 It's December 21st. What does that mean to you? Winter Solstice? Christmas Vacation starting? How about that whole mess about the Mayan Calendar?? Well, here at TMSM, December 21st is the anniversary of the opening of Snow White and the Seven Dwarfs.

Back in 1937, Disney's first feature-length animated film, Snow White & the Seven Dwarfs premiered at the Carthay Circle Theater in Los Angeles, California. This was a huge accomplishment for that era. Motion Pictures were still somewhat new, and for Walt to come up with the idea of making a full animated film was revolutionary for those days.
By the mid 1930's, Walt Disney was already an established animator and short film creator. People knew who Mickey Mouse was, and his Disney shorts did pretty well. The problem was that most theaters were not booking for short animated films, and that caused a financial pinch for Walt and his company. Of course Mr. Disney had a solution for that…… create a full feature animated film! Roy Disney, his brother, was not as thrilled with this idea, due to the fiscal earnings in 1934. Roy didn't think they could afford to take the risk. Well, Walt did, and he wasn't budging on the whole idea. It was actually Walt himself who went to his animation team to tell him what his next project would be. "C'mon in the sound stage. I've got something to tell you guys." Walt then told the story of Snow White and the Seven Dwarfs. The story took two hours to tell, the animators sat teary eyed from the wonderful tale. "That's going to be our first Feature!" Walt was so excited.
By late 1934, Walt had created a special unit of employees to work on developing a better story. The plot had been transformed from Walt's story, and characters were forming. He wanted the Dwarfs names to reflect how their personalities would be played out. He came up with Happy, Sleepy, Doc, Bashful, Sneezy, Grumpy, and Dopey.
Walt was not having an easy time with production though. His animators were having a hard time creating characters to look human. He assembled a special team of men to work solely on Snow White, and make sure his vision became a reality. As most of you know, he called them the "Nine Old Men." Walt was very precise on what he wanted for this film. Right before the movie came out, he was urged to call the film "Snow White" and leave it at that. People felt that fairy tales wouldn't sell. Walt, as stubborn as he was, refused to change the name, and that night in 1937, "Snow White and the Seven Dwarfs" made it's debut.
The turnout for the films premiere was amazing. All the Hollywood Elite were there, and the response was everything Walt had hoped for. There was a standing ovation at the end of the movie, and Walt was thrilled. The film first grossed Eight Million Dollars in the United States. Over the years it has made much more than that. The popularity of Snow White allowed Walt Disney to build a new studio. The Walt Disney Studios moved to Burbank, a huge place with much more property then what they previously had.
And as they say…. The rest was history! Snow White and the Seven Dwarfs launched all the Magic we are a part of today. She was the first Disney Princess. She and those characters were something that Walt was determined to bring to life, and he sure did succeed. If Walt were here now, we'd all give him a standing ovation as well. Thank you Mr. Disney for having the courage to pursue your dreams, in turn, you helped build ours.
Michele Atwood is the Owner/Editor of The Main Street Mouse and it's subsidiaries and author of the book "Moving to Main Street U.S.A." Michele also contributes Disney news to the Joe Kelley Morning Show on 96.5 WDBO in Orlando. She and her family made the move from Michigan to the Orlando area to pursue their Disney dreams. Michele is a life long Disney fan, and has two sons who have followed suit, each going on their first Disney trip before their first birthday's. Part of the goal Michele has for The Main Street Mouse is not only to keep members informed, but to create somewhat of a Disney Family by relating to others through personal experiences and opinions. Also, Michele is making it a priority to share stories of inspiration and hope to other Disney Fans in an effort to share the Magic and hopefully make a difference in the lives of others.