Disney Bounding! #DisneyLife
A few years ago I heard the term Disney Bounding and I thought, "what in the world is a Disney Bound?" So I did a little research and learned that wow, this is a legit thing AND I kinda love it.
Disney bounding is basically dressing in regular clothes INSPIRED by your favorite Disney character, without wearing an actual costume.

Our first foray into Disney Bounding was a few years ago while our family was on vacation attending a Disney Social Media conference. There was a Disney Springs Disney Bound Challenge and our family of five was IN. Since we are a family of five, we chose Disney's Inside Out because there are five characters. We had SO much fun doing this because we shopped and picked up things in all of the character colors and then just kinda rocked our facial expressions all day. What do you think?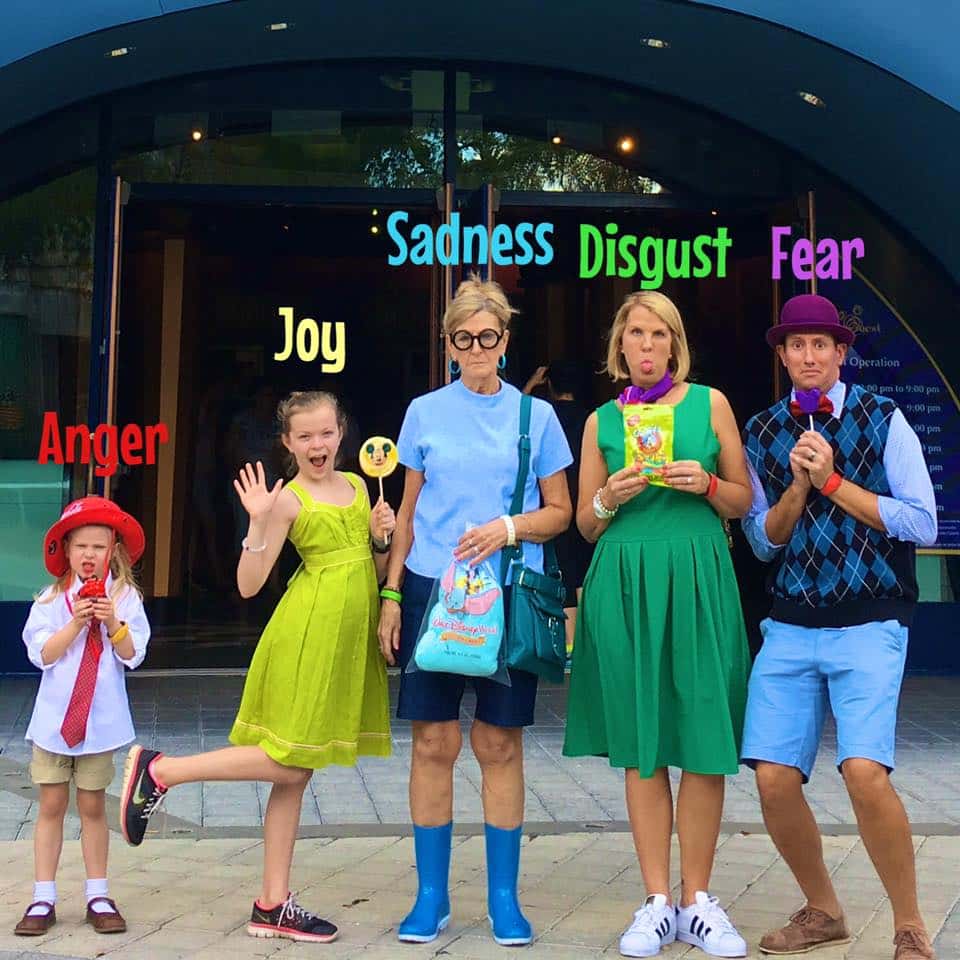 My husband I then did a couples Disney bound for Mickey's Not So Scary Halloween Party a couple of years ago as a young Carl and Ellie from the Disney Pixar movie Up! The fun is seeing if people figure it out. I already had denim overalls and everything else I picked up at a local Goodwill minus our hats. The goal for me is to always spend as little as possible. I like to dig in our closets first, hit up a local thrift store and fill in the missing pieces by borrowing from a friend or Amazon it. Remember, it's not a costume. Just regular clothes that you wear that are inspired by your favorite Disney character. Think color schemes or fun accessories.
Recently, I encouraged Michele (and her husband Scott) from The Main Street Mouse to try Disney Bounding for the very first time with my husband and me. We were all heading to Disney Villains After Hours at Magic Kingdom and you're encouraged to wear Villains inspired attire (not costumes). Since our daughters LOVE the Disney Descendants movies, I thought a good foursome Disney Villains bounding would be Mal, Evie, Carlos and Jay from The Descendants. Disney bounding was new to Michele and Scott but I told them, it only takes ONE person to "get" who we are and then you'll totally feel like you're #Winning. Ha! They were IN and such good sports! Michele and I sprayed some color in our hair for fun and grabbed what we had in our closets and were ready to be chillin' like villains! My only purchases was this inexpensive blue dress/tunic on Amazon (which I will wear again), this child's Evie necklace which will go to my six-year-old daughter and some blue hair spray paint.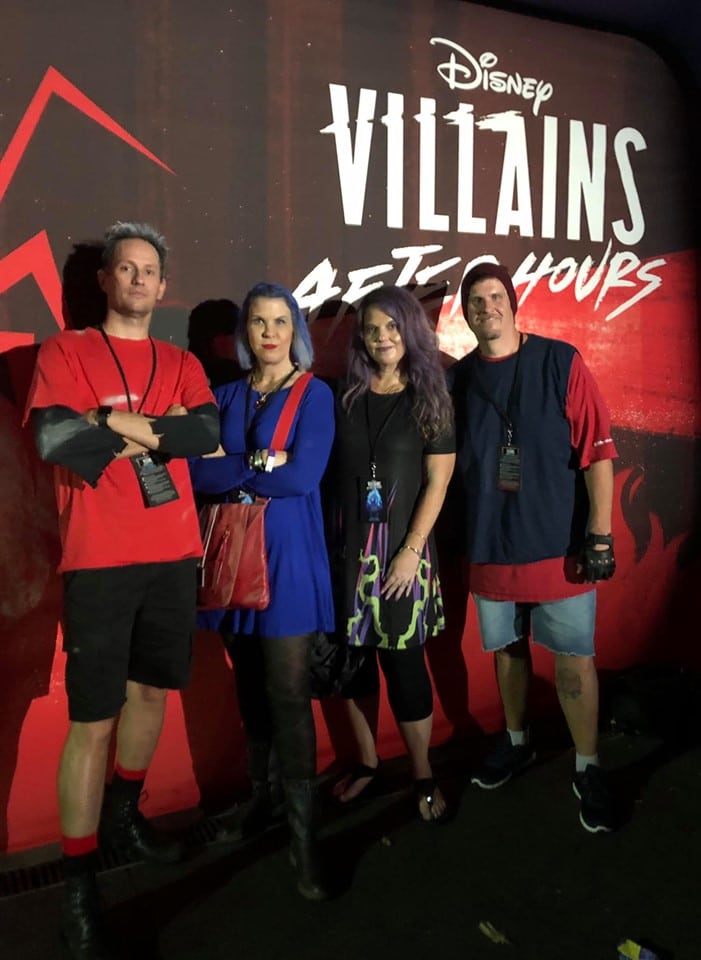 Our friend Courtnee was the first person to recognize who we were and then it was person after person who knew. It was SO much fun being "figured out" and that's kinda the point really. If you're TOO obvious than it's more like a costume. Remember, subtly is key!
So if you've been thinking about Disney Bounding, go for it! It's all about the Disney fun and creating memories!
xo
Cindy
(Disclosure: Some of the links in this post are affiliate links of which Cindy receives a small commission from sales of certain items, but the price is the same for you.)

Born and raised a California girl, Cindy spent eight years at KIIS-FM-Los Angeles (Ryan Seacrest's station) hanging with celebrities and worked on a syndicated show live from Disneyland California. She then continued her radio career in Atlanta for 12 years where she not only performed on her show with Lionel Richie and MC Hammer but was the driving force behind introducing the country duo Big & Rich!
Currently, you can find Cindy spreading JOY on the radio every day from 10AM-2PM at
Z88.3 Orlando
, hosting her own weekly
Facebook
live show,
Coffee Convo Wednesday
and hanging out at Walt Disney World while living on social media.
Cindy is a wife and a mom of two little girls. Cindy and her family love to travel together and do crazy fun Christmas cards every year. In fact, their 2018 Mary Poppins Christmas card was even featured on
Good Morning America.com
! Cindy spent most of her childhood with her family at Disneyland Resort in California and as an adult, can count Walt Disney World, Disneyland Paris (twice), Aulani, A Disney Resort and Spa in Hawaii and four magical Disney cruises in her family's Disney repertoire!
You can reach Cindy via email at
cindy@cindysimmons.com
.

Latest posts by Cindy Simmons (see all)