A Very Merry Un-Birthday Tea Party, Indeed!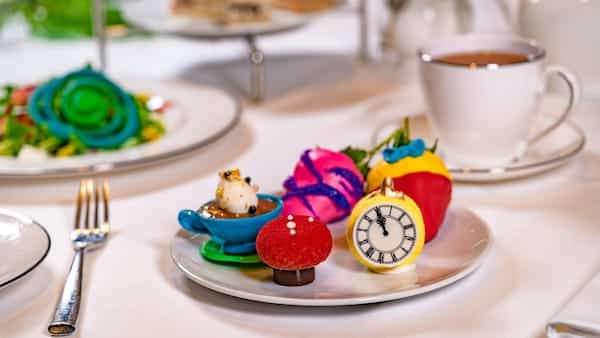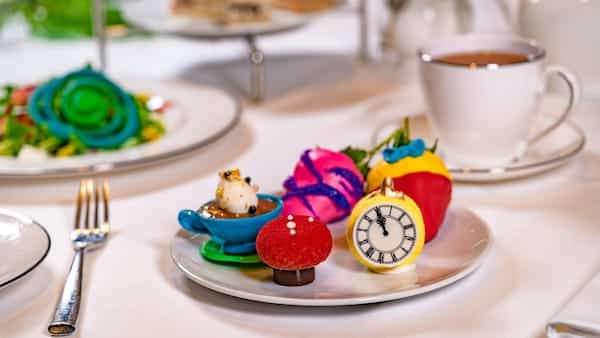 A Very Merry Unbirthday Tea Party

Gather here to cheer—celebrate you with themed treats, sweets and stark ravin' mad mealtime fun!
Beginning May 31, Alice in Wonderland fans and Guests of all ages are invited to the Disneyland Hotel for a Very Merry Unbirthday Tea Party, a special midday tea offering an array of goodies that give a nod to Disney's animated classic.
Feast on a delectable menu of fresh salad, assorted scones, sandwiches, desserts and, of course, tea inspired by some of the film's most unforgettable characters—from Alice, Caterpillar and the Mad Hatter to Cheshire Cat, White Rabbit, Tweedle Dee, Tweedle Dum and her royal wry-ness, the Queen of Hearts. Aperitifs, wines by the glass, ports and cordials are also available for an additional charge.
So off with your hats and pour another cup—this limited-timed event is sure to take you through the Looking Glass and back!
Choose from 3 distinct tea parties:
Classic Tea Party

Traditional Scones
Tea Sandwiches
Desserts
Teas and Herbal Infusions
Premium Tea Party
Sparkling Wine
Traditional Scones
Salad
Tea Sandwiches
Desserts
Farewell Truffle
Teas and Herbal Infusions
Kids Tea Party
Traditional Scones
Tea Sandwiches
Desserts
Herbal Infusions, Juices, Milk or Hot Chocolate
EVENT DETAILS
Disneyland Hotel
May 31 to September 1, 2019
Friday through Sundays
Noon to 3:00 PM
$52 Regular Tea Party per adult – plus tax and gratuities
$65 Premium Tea Party per adult – plus tax and gratuities
$39 Kids' Tea Party per child (ages 3 and up) – plus tax and gratuities
No charge for children under 3
Make a Reservation
Reservations are highly recommended and can be made online or by calling (714) 781-DINE or (714) 781-3463 daily from 7:00 AM to 7:00 PM (Pacific Time). Guests under age 18 must have parent or guardian permission to call.
All reservations require a credit card guarantee. If you wish to cancel your reservation, please do so at least 24 hours in advance to avoid a $10 per-person charge. This charge will also apply to "no shows."
Please note: Gluten-friendly and vegan options are available upon request. Alcohol will only be served to Guests 21 and older.
Credit: Disney