Storybook Dining At Artist Point With Snow White – Review
Re-post!
If there's one thing I love to do, it's dining out at Disney, especially at themed restaurants. Well, last night I got my chance and I was not disappointed.

As we have known for awhile now, a new character dining restaurant was to open at the old Artist Point at the Wilderness Lodge at Walt Disney World. I was lucky enough to score last minute dining reservations to the new Storybook Dining At Artist Point with Snow White, and I was so excited. Let me tell you all about it.
Last night we dined with some of our favorite characters, Snow White, Dopey, Grumpy, and the fairest of them all, The Evil Queen. To me, I knew this dinner was going to be all about the experience and atmosphere. And how right I was.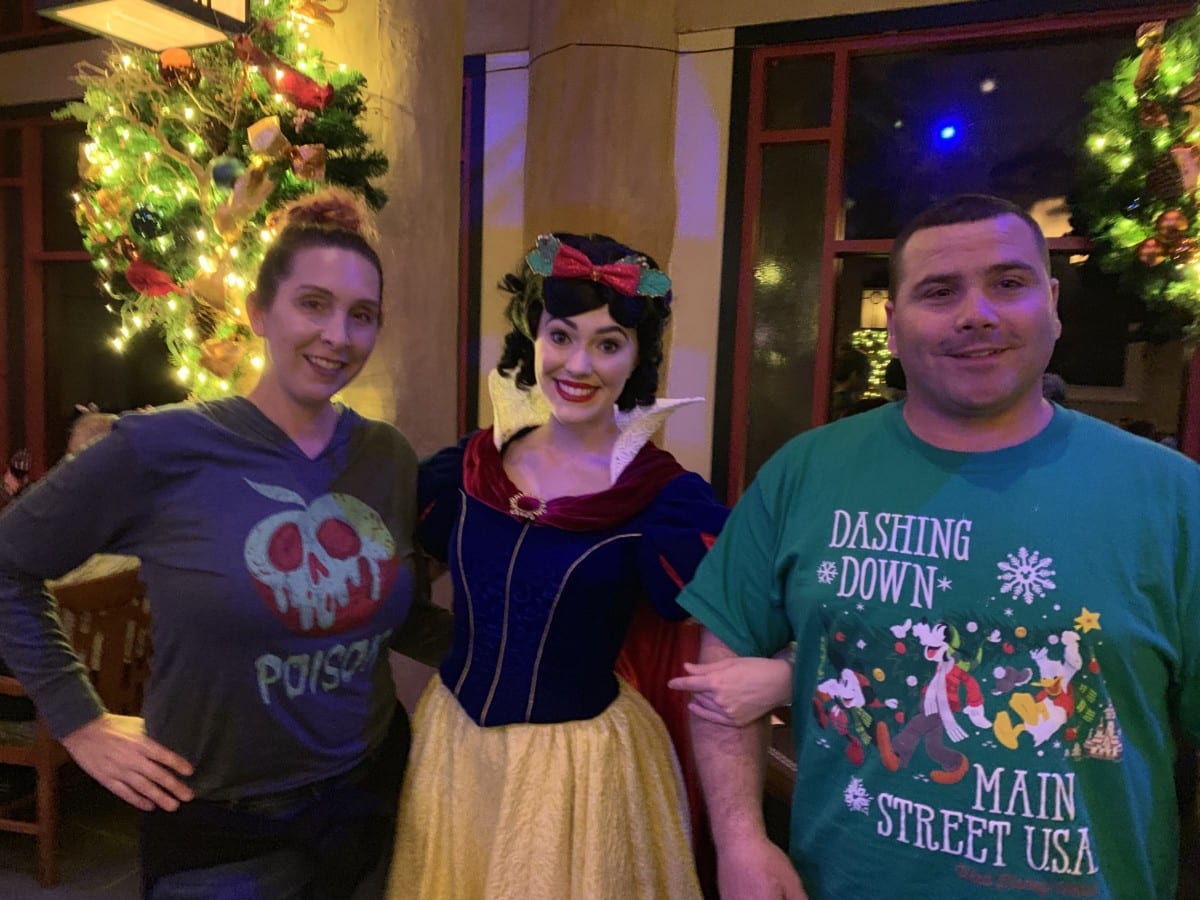 Everything was detailed to the nines, from the food, drinks, dessert and decor. Yes, I was that person snapping photos of all of our food and drink. I was very impressed how Disney made us feel like we were engulfed in a fairytale.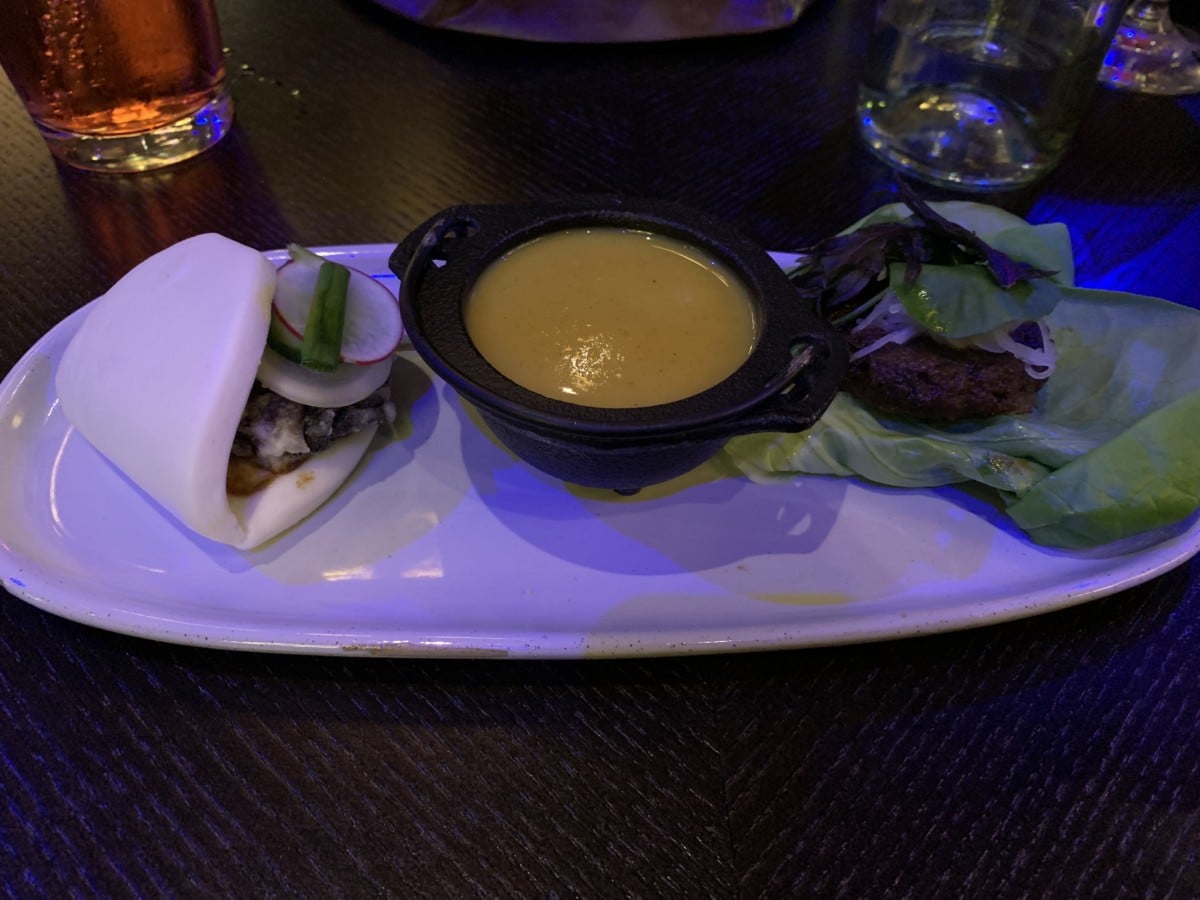 The menu is prix-fare, and each person can choose an entree, cleverly named, while the appetizers and desserts were served family style for sharing.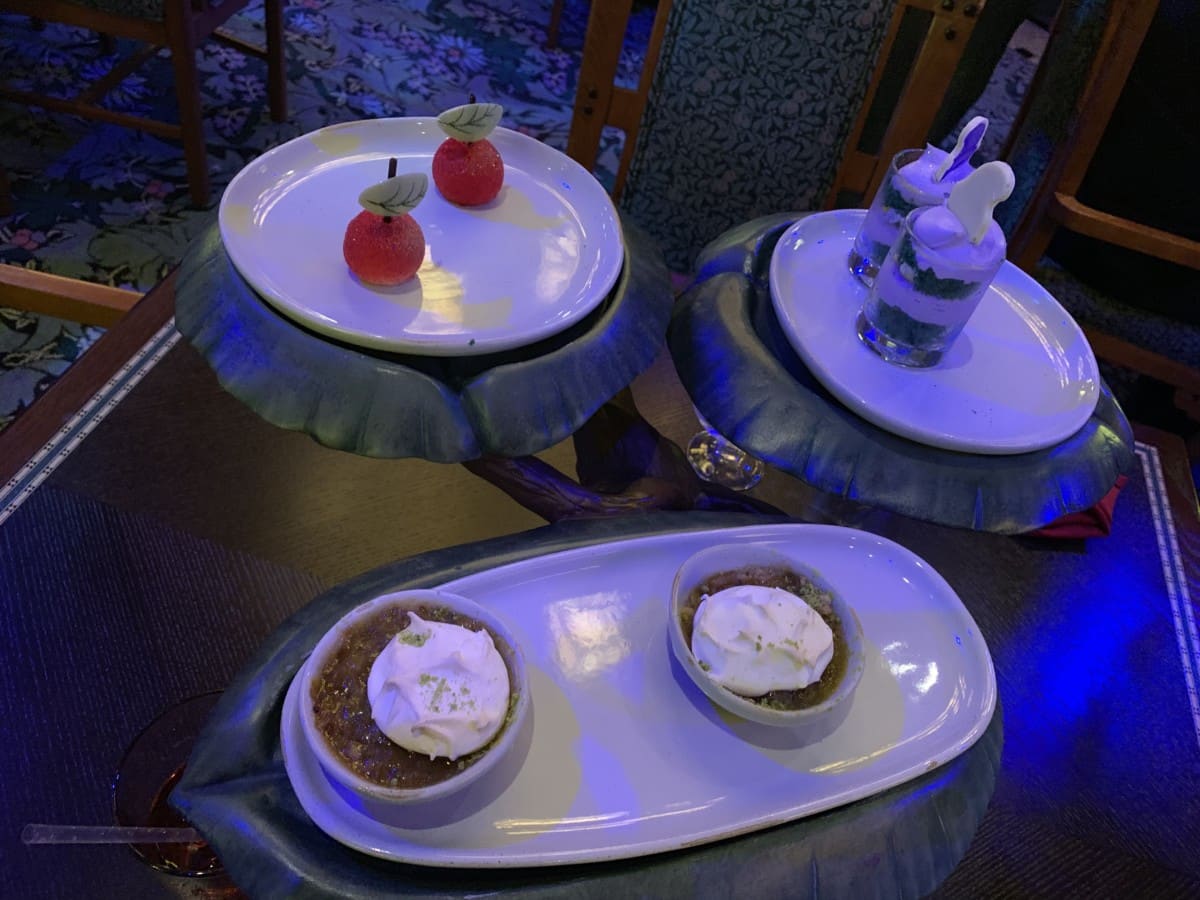 I am a huge fan of ambiance and overall atmosphere. I really enjoyed the way the drinks were served like potions, while Snow White danced around the room with the forest lights twinkling. Every detail was well thought out, down to the napkins and special apple napkin holder that you got to keep as a souvenir. Our server's Paul and Paul were equally amazing, and they really kept to theme of the restaurant, plus the service was outstanding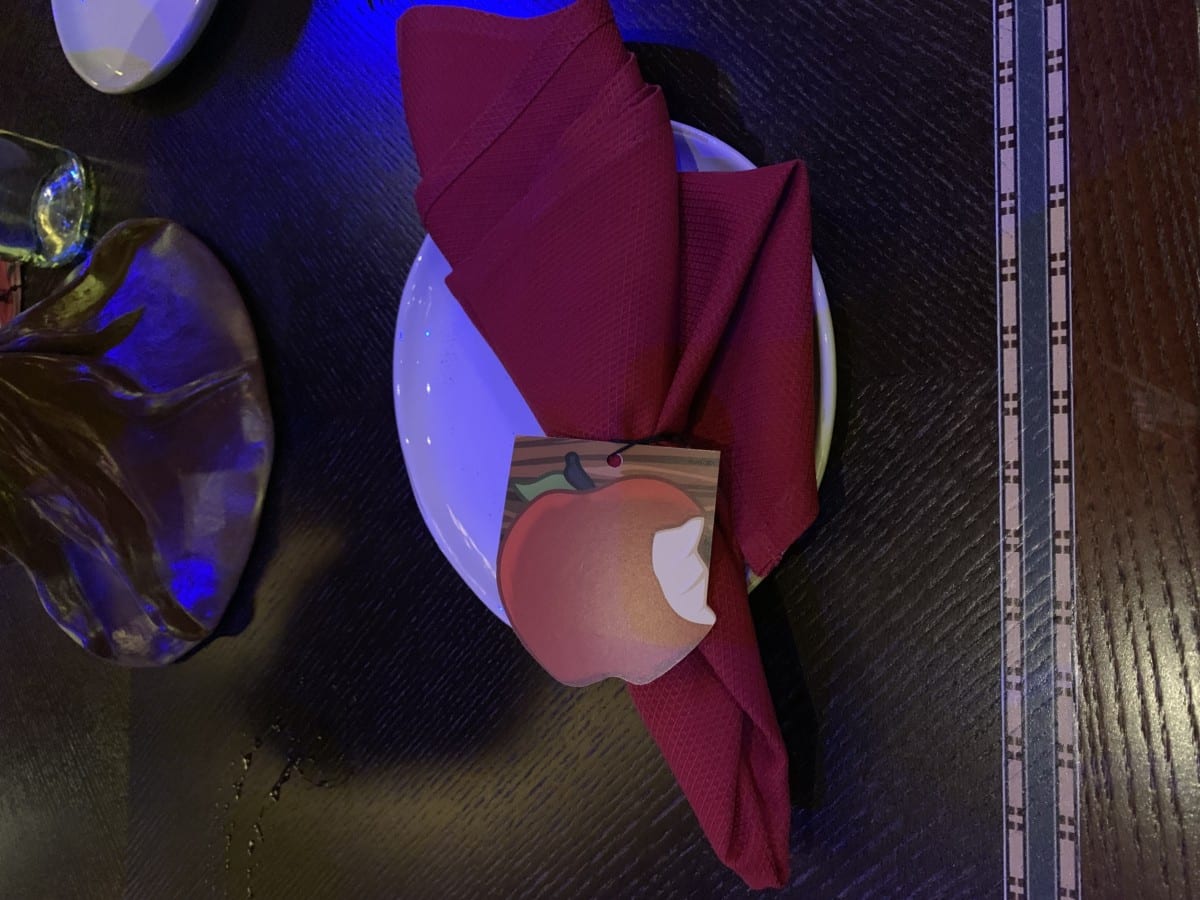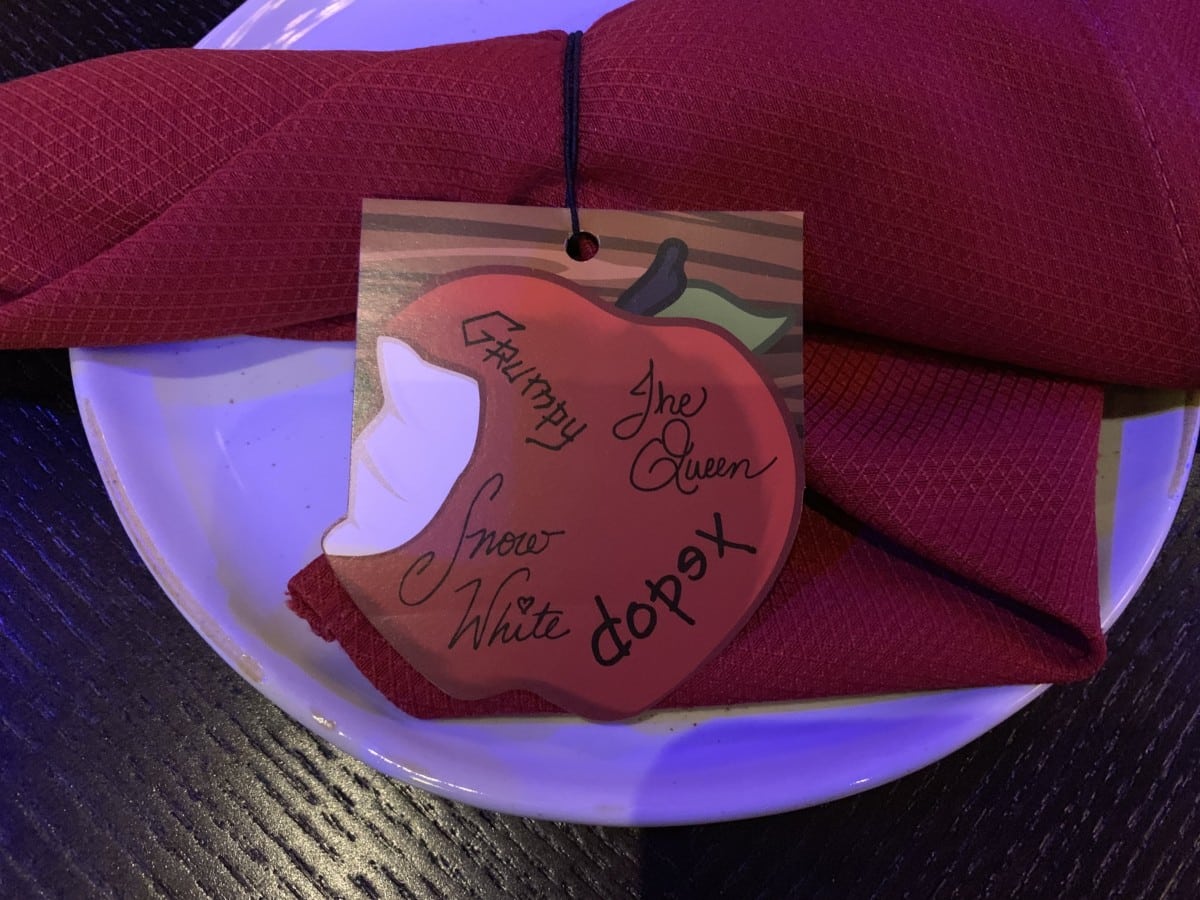 Each character comes around to talk and dance, and of course take photos, except the Evil Queen. After she storms into the room, she takes her rightful place in the front of the room, with photopass ready to go.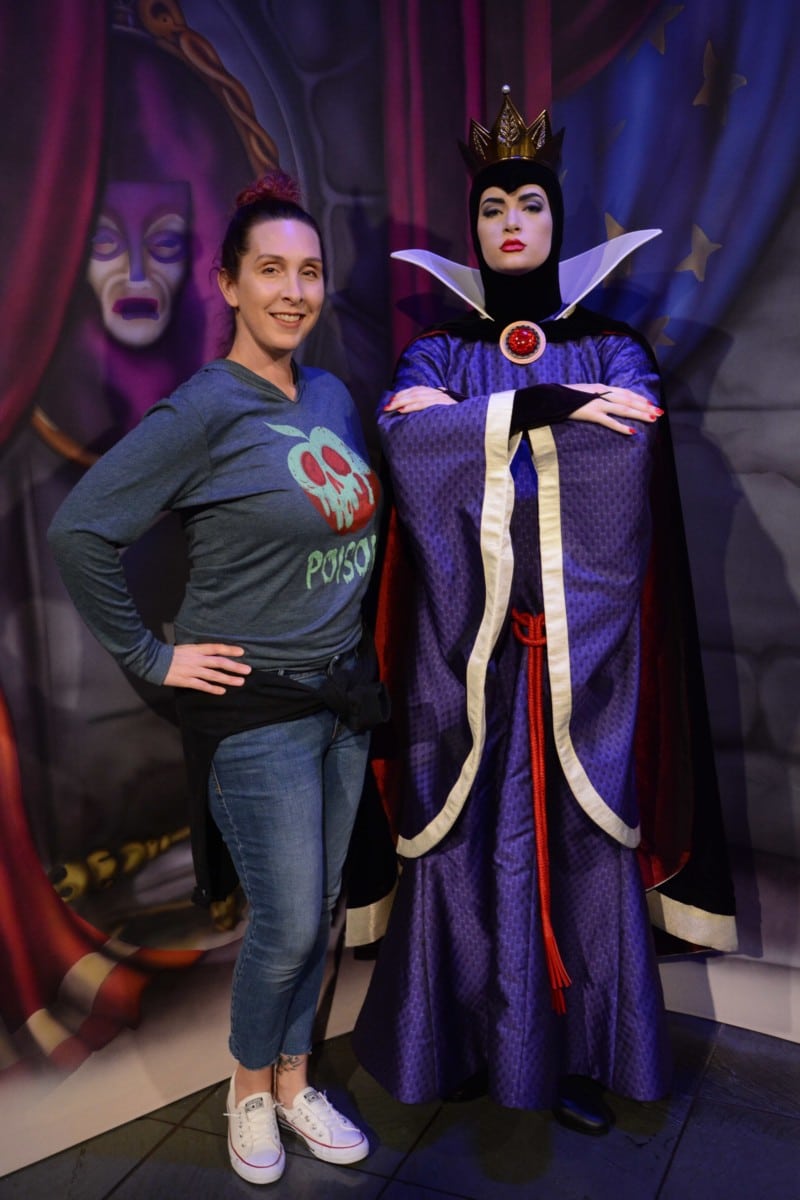 I'm sure you want to know about the food. I'll be honest, it was just ok. Selections from Prime rib, to chicken and more seemed like standard sit down fare. The atmosphere really was what is was all about for myself and my husband. I will definitely go back again, as I thoroughly enjoyed myself. They don't rush you, which was nice.
Pro-tip – never give up on getting a reservation. I got mine the day before. Just keep checking back, many people drop theirs close to the day. I do this frequently with advanced dining reservations to the top restaurants, even Be Our Guest. This new dining experience is worth checking out for sure! Enjoy!
Author:
Lindsey
Hello, and I am so excited to be a part of TMSM team. So, let me introduce myself. I am a New Yorker, transplanted in Central Florida with my husband and children. We had been been visiting the Disney Parks for many years, so this was a win-win! I got into photography and Disney social media, where I really enjoyed all the merchandise that was always coming into the parks. I took a leap and started my own personal shopper service for all things Disney and I love it so much.-@mouseaholicshopping on IG & FB – I am so excited to bring to you all of the newest and my favorite Disney finds from around the parks. Since Disney is really stepping up their game merchandise wise, what a great time to start. When I am not shopping around Disney, I enjoy hanging out with my family and going on adventures.