Disney's Magic of Storytelling Sweepstakes
Here at The Main Street Mouse we believe in the magic of storytelling and the importance of literacy, just like Disney does. We work hard to bring you original and engaging family focused Disney content on our blog. In fact, these things are so near and dear to us that Michele wrote not one, but two books to share the magic; one is the story of Moving to Main Street U.S.A, and the other is a fantastic new children's book where you can follow the adventures of Gracie as she counts down how many sleeps to Disney. You can check those out,as well as purchase them on Amazon or through Lost Princess Apparel's website:
AMAZON   //  LOST PRINCESS APPAREL
We also believe in the importance of giving back and helping communities. Disney Publishing through their Disney Citizenship Program partnered with the non profit organization First Book to embark on a literacy campaign that will donate a maximum of 1 million books to children in need. First Book as an organization provides affordable new books to educators who serve in communities where children don't have books of their own at home, or even in school. This year will be the seventh year of the literacy campaign and we can all do our part to help.
How far can one millions books go?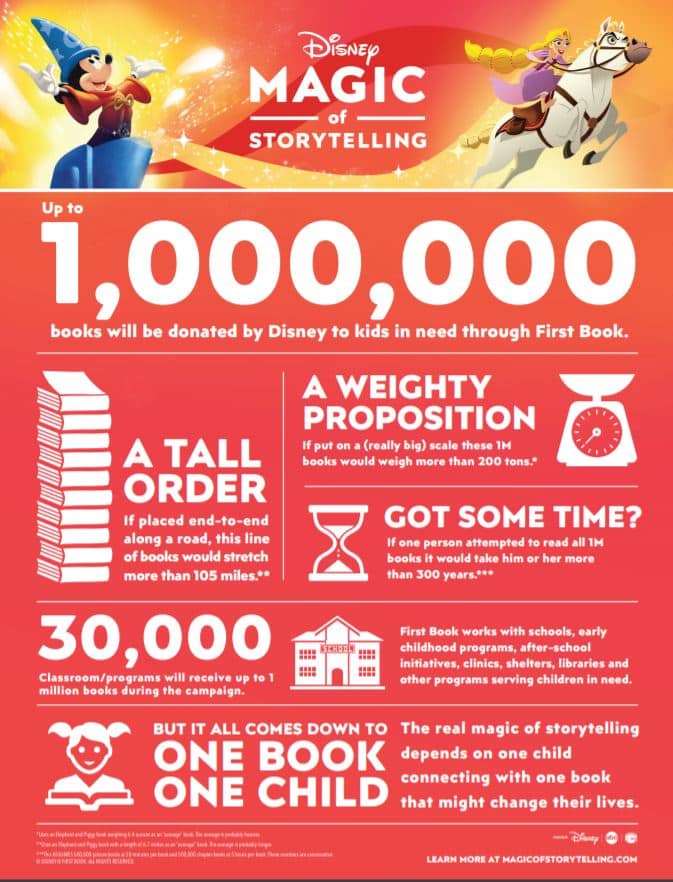 The initiative will begin on January 11 and runs through March 31. You can help bring great stories to take kids on fantastic adventures in three ways:
With every eligible Disney book purchased at a Disney Store or participating retailer through those dates, Disney will donate a new book to First Book.
Disney will also give one book for every "shelfie" — a selfie photo with a favorite book or in front of a bookshelf — shared on Twitter or Instagram using the hashtag #MagicOfStorytelling – this includes Michele's Books! Don't forget to #TMSM or #TheMainStreetMouse when you share your "shelfie"
"Visit Disney's digital reading platform to download digital books designed for parents and children to read together. Disney will donate one book to First Book for every book read in the app.
Additionally, if giving back to those in need wasn't a sweet enough deal, First Book is hosting a sweepstakes where you can enter to win a trip to Los Angeles for the movie premiere of Dumbo, and a trip to Disneyland. Make sure to visit First Book to learn more about the prize and enter to win.
We can't wait to see your "Shelfie's" and celebrate the magic of that storytelling brings children.
Author:
Erika
Erika Krystle has been a Disney kid for as long as I can remember, but my love of visiting Disney Parks started after just one ride in a Doom Buggy. I couldn't run to guest relations fast enough to offer up my soul in return for an Annual Pass. Since then Disney has taken all my money, but has given me the most cherished memories; from watching my Nona's face light up with happy tears as we strolled down Main Street on her first visit (she was 84 at the time), to my very own engagement on Halloween in front of the Haunted Mansion.
I'm excited to be on the TMSM team and where Disney Parks are concerned, you won't catch me dead on It's a Small World. If I ask to ride that, this is a clear indication I am in danger and you must send help. You will however catch me performing Random Acts of Disney (R.A.D's), park hopping with my amazing group of impressively talented and kind friends (usually in some themed attire), hanging out by The Haunted Mansion, and ugly crying during Wishes… then begging for a Mickey Premium Bar to eat my feelings…don't judge me.
Otherwise, I work for the State of Florida and I am actively involved in my community. I believe in empowering others and spreading kindness to people from all walks of life. I also make custom designed Disney inspired ears, etched glass, gifts, and accessories. You can check out, like or follow my work on FB, which also links to my shop's Instagram and Etsy page: www.facebook.com/imagineering.emporium. I look forward to getting to know everyone and sharing the magic of Disney!