The Three Caballeros and The Gran Fiesta Tour
Greetings Main Streeters! Happy Thursday. Hopefully you are following along with this series of blogs on life lessons to be learned or gained from Disney movies. I have been going in sequential order of release and taking a nice nostalgic stroll through the humble beginnings of Walt Disney's powerhouse imagination. The last post in the series explored how Walt Disney changed world perceptions of Latin American culture with the release of the animated short film Saludos Amigos (Hello Friends!). This week, we explore The Three Cabelleros and its modern day presence at Disney parks.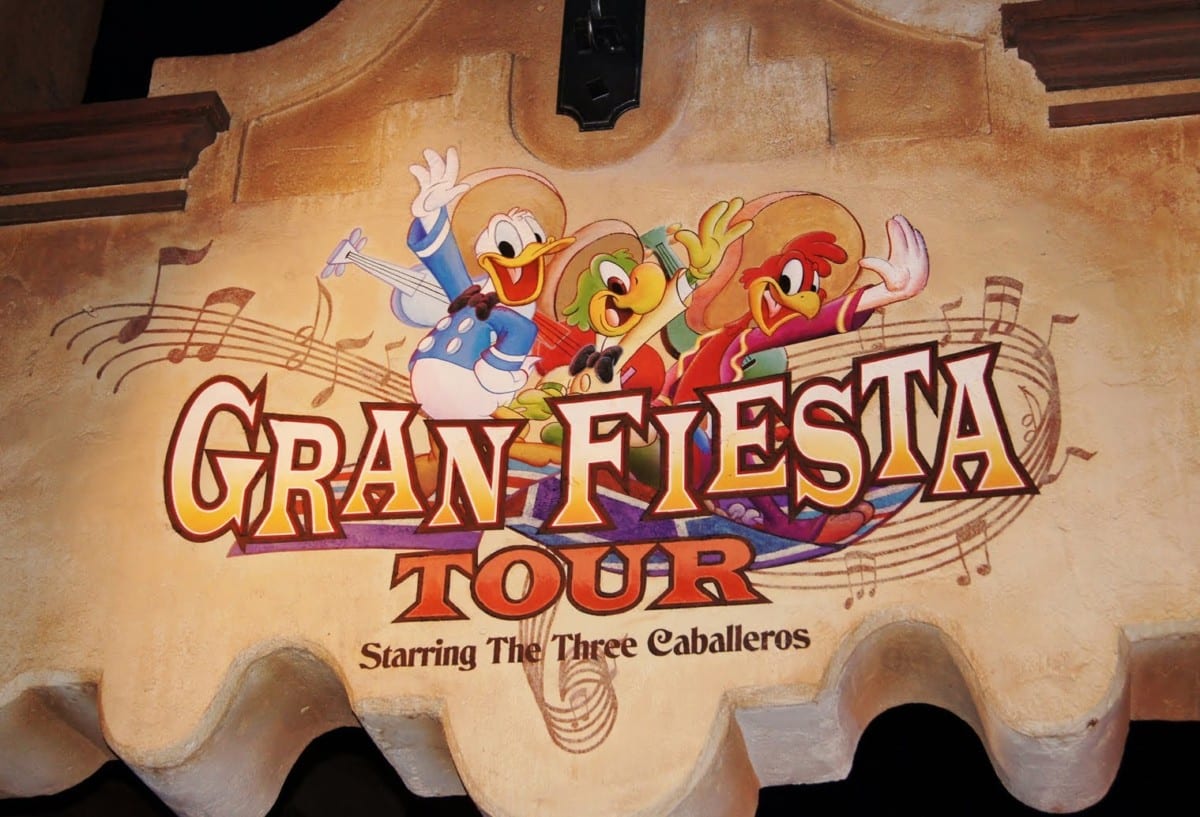 A little history on this tale; the movie was promoted as a miracle musical feature and is the seventh Disney animated feature film released. It premiered first in Mexico City on December 21, 1944, then launched in the United States on February 3, 1945, and made its way to the UK by March. Just like Saludos Amigos, this film was created as part of the Good Neighbor Policy and inspired by Walt's goodwill tour of South America. The Three Caballeros are: Donald Duck, Jose "Ze" Carioca and Panchito Pistoles. Donald was intended to represent America, Jose a cigar smoking parrot represented Brazil, and Panchito represents Mexico.
Much like Fantasia and Saludos Amigos the story unfolds as a series of self-contained stories or segments that weave in together to create a bigger story. The Three Caballeros has seven segments that take audiences to far reaches of South American locations. In this film, the connection between the segments is Donald Duck opening gifts that his Latin American friends gave him for his birthday, which happens to fall on what is considered an unlucky Friday the 13th. As you can imagine, all sorts of shenanigans unfold. Where this film differs is through the live action appearance of several Latin American icons of the time.
For a Free NO obligation quote with a new booking, contact our sponsor Magical Vacation Planner by clicking HERE!
Although the movie premiered to somewhat critical and mixed reviews it wasn't a total flop. Many critics of the time hailed the movie as flashy mostly due to the innovation of technicolor, but claimed that there was little substance to the story all together. Another interesting review provides a glimpse into societal mindsets, particularly the taboo nature of a cartoon Donald Duck expressing intense feelings of desire towards a real human. The interpretation of this kind of behavior pushed the social norm boundaries just a tad too far for the good ol' 40's, and many reviews claimed the imagery used in the film leaned towards a more suggestive nature.
Fast forward to present day, The Three Caballeros has a special place at Disney parks and even at the resorts. Almost like playing the hidden mickey game, you can spot the Three Caballeros at two parks; Magic Kingdom and Epcot. Finding them at Magic Kingdom is a little harder than at Epcot, and I won't give away exactly where in Magic Kingdom you can find them, but here is a hint: If you ever feel the need to listen to a little music from Sorcerer Mickey, the Three Caballeros are right on queue.
In 2007, these beloved characters became the basis of the ride called Gran Fiesta Tour in the Mexican pavilion at Epcot. If you've never been on this hidden gem, you can take a leisurely boat ride around a Mayan temple and into a tunnel where The Three Caballeros are gearing up to perform a concert. As you float through the attraction, it appears Donald has run off and his friends need to find him before the show. The rest of the ride incorporates animatronics, video and lights to showcase Mexican and Latin culture. It's a great little break from walking the World Showcase; that is, if you started the day in Canada versus Mexico. Another perk of this ride is that it's usually always a short to non-existent wait time in glorious air conditioning.
If you want an actual meet and greet opportunity with Donald dressed in his Three Caballeros attire, you can meet him outside of the Mexican Pavilion for a photo opportunity throughout the day.
Aside from the parks the Three Caballeros have a prominent influence at Disney's Coronado Springs Resort as well as in the Calypso pool area of the Disney All Star Resort. A friendly reminder of Walt's goodwill tour and a festive trio of rare characters from the early days of Walt Disney Studios.
Tell us Main Streeters, have you guessed where you can find the Three Caballeros at Magic Kingdom?
Until next week! Adios!
Author:
Erika
Erika Krystle has been a Disney kid for as long as I can remember, but my love of visiting Disney Parks started after just one ride in a Doom Buggy. I couldn't run to guest relations fast enough to offer up my soul in return for an Annual Pass. Since then Disney has taken all my money, but has given me the most cherished memories; from watching my Nona's face light up with happy tears as we strolled down Main Street on her first visit (she was 84 at the time), to my very own engagement on Halloween in front of the Haunted Mansion.
I'm excited to be on the TMSM team and where Disney Parks are concerned, you won't catch me dead on It's a Small World. If I ask to ride that, this is a clear indication I am in danger and you must send help. You will however catch me performing Random Acts of Disney (R.A.D's), park hopping with my amazing group of impressively talented and kind friends (usually in some themed attire), hanging out by The Haunted Mansion, and ugly crying during Wishes… then begging for a Mickey Premium Bar to eat my feelings…don't judge me.
Otherwise, I work for the State of Florida and I am actively involved in my community. I believe in empowering others and spreading kindness to people from all walks of life. I also make custom designed Disney inspired ears, etched glass, gifts, and accessories. You can check out, like or follow my work on FB, which also links to my shop's Instagram and Etsy page: www.facebook.com/imagineering.emporium. I look forward to getting to know everyone and sharing the magic of Disney!