The RunDisney Bug
Last weekend RunDisney hosted various events on property for those poor unfortunate souls who enjoy the sport of running. It was Marathon weekend. If you are unfamiliar with RunDisney events, it is the road race division of Disney Sports Enterprises. They host weekend long events that include themed 5Ks, 10Ks, Half Marathons and Full Marathons. Many people who participate in running events sign up for these on both coasts. Up until recently, RunDisney offered a coast to coast challenge for those who were fearless enough to sign up and run events at both Walt Disney World and Disneyland. RunDisney has since postponed their events in order to expand Disneyland. Don't fear though, there are other challenges hosted by RunDisney that you can lace up your running shoes for, many of which include coveted medals referred to as "hardware" that you can show off at the parks after you complete your challenge.
I admit, I once had the RunDisney bug. I participated in the now defunct and short lived Tower of Terror 10 miler. The run included appearances by all the villains your heart could desire, including a rare appearance of Jack and Sally before they became MNSSHP regulars, and the course was challenging. I will say that it was an experience I cherish because my run outfit was DIY and amazing, and I will definitely never forget all the things I learned about participating and training for such an athletic event. Running a race like that was something to check off my Disney bucket list. I gladly did so. It was also one of those things that made me realize, I loathe running. After that race, I hung up my running shoes, and swore off RunDisney forever. Aside from the awesome glow in the dark medal I got, I also parted Disney property with a rolled ankle, which had become what people refer to as a "cankle" due to swelling, and the dreaded black toenail. Many seasoned runners would probably tell me that the toenail was because of the shoes, and I should try again, but I've spent the last few years dodging RunDisney like the plague…. Until now.
As runDisney has grown there are far more events to choose from that I can still collect memories and a medal for and not necessarily wreck my knees or ruin my toes, heck, I may not even break a sweat. I'm pushing 32 Main Streeters, be gentle on me. All kidding aside, thanks to a good friends of mine, I started looking into what options are available to attempt another runDisney event, and I came across the inaugural Star Wars Virtual Half Marathon. Yes, virtual; meaning I can run this race at my own pace over a time frame that started January 3rd and ends March 31, 2018.
What a perfect way to get back into training for an actual marathon and still earn some Star Wars swag in the form of a commemorative finisher medal. I don't know about you all, but this sounds like an excellent way to stick to new years resolutions of living a healthier life, or even just bring myself to dust off those running shoes, although maybe I should buy some new ones.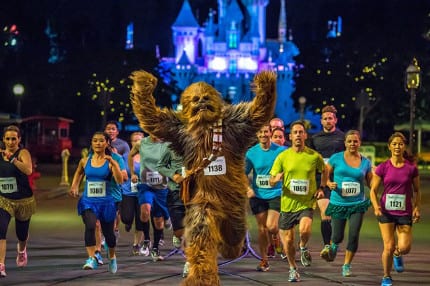 For a Free NO obligation quote with a new booking, contact our sponsor Magical Vacation Planner by clicking HERE!
Attached to the virtual race, if you are ready for a race this year, you can already sign up for the 2018 Star Wars themed RunDisney events. Although participants be aware, the Dark Side 10K is sold out. The Half Marathon, First Order Challenge, Dark Side 5K and the runDisney kid's races are all still open for registration. If you sign up for the Dark Side half marathon or the First Order Challenge in conjunction to the virtual race, you have the opportunity to qualify and complete the Kessel Run Challenge, which also earns you a medal.
Other runDisney events to look forward to in 2019 include another Marathon weekend which typically occurs in January and the Princess Half Marathon weekend which takes over the parks in February. Unfortunately, all the Princess marathon events for 2018 are sold out. They tend to sell out quickly, as do the Wine and Dine runDisney events.
Since it's a new year, why not challenge yourself to get moving and participate in a runDisney event? Even if it's a 5K, maybe you to will catch the runDisney bug.
Author:
Erika
Erika Krystle has been a Disney kid for as long as I can remember, but my love of visiting Disney Parks started after just one ride in a Doom Buggy. I couldn't run to guest relations fast enough to offer up my soul in return for an Annual Pass. Since then Disney has taken all my money, but has given me the most cherished memories; from watching my Nona's face light up with happy tears as we strolled down Main Street on her first visit (she was 84 at the time), to my very own engagement on Halloween in front of the Haunted Mansion.
I'm excited to be on the TMSM team and where Disney Parks are concerned, you won't catch me dead on It's a Small World. If I ask to ride that, this is a clear indication I am in danger and you must send help. You will however catch me performing Random Acts of Disney (R.A.D's), park hopping with my amazing group of impressively talented and kind friends (usually in some themed attire), hanging out by The Haunted Mansion, and ugly crying during Wishes… then begging for a Mickey Premium Bar to eat my feelings…don't judge me.
Otherwise, I work for the State of Florida and I am actively involved in my community. I believe in empowering others and spreading kindness to people from all walks of life. I also make custom designed Disney inspired ears, etched glass, gifts, and accessories. You can check out, like or follow my work on FB, which also links to my shop's Instagram and Etsy page: www.facebook.com/imagineering.emporium. I look forward to getting to know everyone and sharing the magic of Disney!