TMSM's Adventures in Florida ~ Boo to You…. and Irma too!
Happy Wednesday Main Streeters! It's Wednesday and time for our weekly update! So, what's been going on here in Central Florida… hmm? So much, too much! Let's get chatting!
Last Friday, Disney invited us out to media night at Mickey's Not So Scary Halloween Party, as I mentioned. We were so excited to go to the party, but were having a hard time finding costumes. No place down here had costumes available, not even Target and Walmart! Well, we did the best we could to throw ideas together. My husband wore a Halloween jersey and hat, my older son wore a Darth Vader onesie, and little guy did his best Jack Skellington. Me? I tried my hand at Disney Bounding, and was my favorite Disney Princess, Rapunzel! I don't care how old I am, I had a blast dressing up. I braided my hair with flowers in it, pinned my Pascal tsum tsum to my dress, and did the best I could. I'm going to do a write up about it later! Anyway, we headed to the party, and shortly after things started, it began to rain. We managed to get in some trick or treating before the hard stuff hit. The Boo to You Parade was delayed, same with HalloWishes and the Hocus Pocus show. We did our best to get footage, and stayed until after midnight in order to get pictures and such. We had a great time, rain and all. I'd love to go back though, on a better weather night. We didn't get to see the Headless Horseman, full shows, all the magic shots, or the ghost on the lawn of the Haunted Mansion. Maybe we'll get the chance, we shall see! Speaking of rain….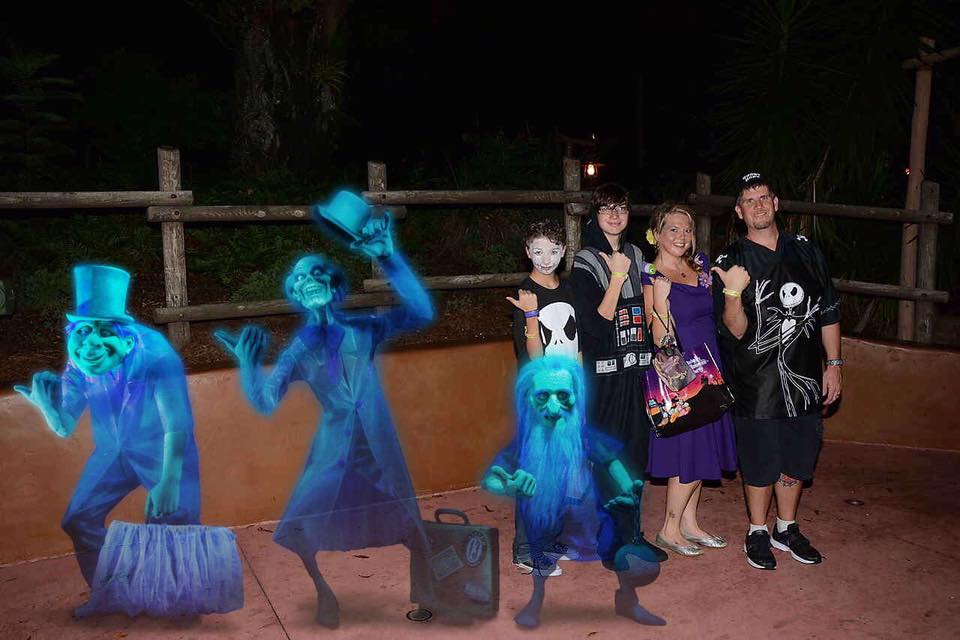 Hurricane Irma is approaching Florida as we speak. What does that mean for us? Preparation, that's what. This week we have been getting the house ready by putting away lawn decorations and patio furniture. Water and supplies have been scarce, the shelves are empty at local grocery stores (see pic below), but we're doing our best. Same with gas stations, but we were able to fill up at Sams Club today. Disney Parks have not made any announcements yet regarding closing, but I'm waiting for it. They closed during Matthew last year, and Irma is bigger and badder. I'm a Michigan girl at heart, I'm not used to this hurricane business. Am I scared? Honestly, yes. I'm holding it together for my kids though, and we're getting ready as best we can. We aren't in a panic, but we're getting ready for the worst, and praying for the best. If you too are in Florida, please take the warnings seriously. Nothing is worth your safety. It's better to be safe than sorry, and this is no joke. I'll be keeping our readers up to date as best as I can, so be sure to stay tuned. And pray!
That's it for this weeks update! As always, thank you all so much for keeping up with my family and I every Wednesday. To all of you in Hurricane Irma's path, please take care. We will be doing that as well. Until next week, sending you love, blessings and pixie dust! See ya real soon! ~M
Follow on Instagram for pics all week at themainstreetmouse and cindershella4!
Michele Atwood is the Owner/Editor of The Main Street Mouse and it's subsidiaries and author of the book "Moving to Main Street U.S.A." Michele also contributes Disney news to the Joe Kelley Morning Show on 96.5 WDBO in Orlando. She and her family made the move from Michigan to the Orlando area to pursue their Disney dreams. Michele is a life long Disney fan, and has two sons who have followed suit, each going on their first Disney trip before their first birthday's. Part of the goal Michele has for The Main Street Mouse is not only to keep members informed, but to create somewhat of a Disney Family by relating to others through personal experiences and opinions. Also, Michele is making it a priority to share stories of inspiration and hope to other Disney Fans in an effort to share the Magic and hopefully make a difference in the lives of others.