Gatorland Celebrates Pearl The White Gator's Sweet 16 Birthday on Saturday, Sept. 2
Gatorland®, the "Alligator Capital of the World," is ready to celebrate the Sweet 16 Birthday of their celebrity albino alligator, Pearl, on Saturday, Sept. 2.  The first 16 lucky guests with paid admission will have the opportunity to be part of Pearl's birthday party inside the park with an exclusive Red Carpet up close and personal meet and greet with her.

This week has been full of special birthdays at Gatorland, as the park also celebrated the 30th birthday of their four "leucistic" alligator brothers.
Pearl is a rare albino alligator whose complete absence of pigmentation gives her totally white skin and pink eyes. The white leucistic alligators have pale or patchy coloration of their skin caused by a reduction in pigment. Albino and leucistic animals are rare because their parents have to carry the recessive gene to produce the trait in the womb.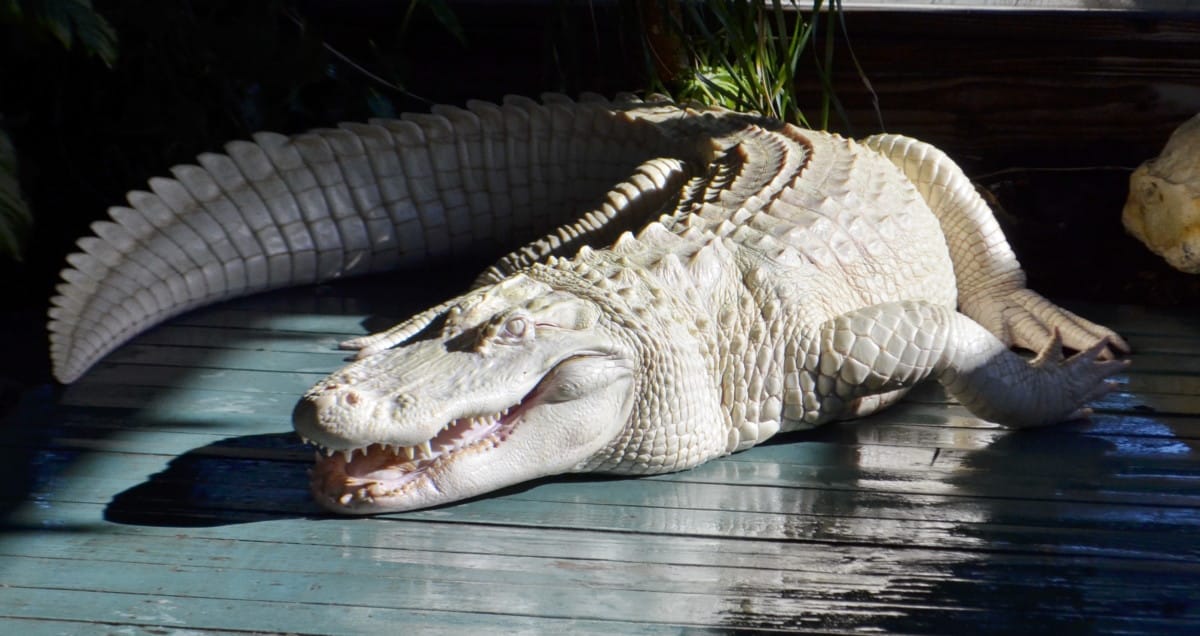 "We are so excited to celebrate Pearl's special day. She is an incredibly beautiful alligator and a huge social media star. She is truly a wildlife treasure," said Mark McHugh, President and CEO of Gatorland.
In addition to the new Baby Gator Marsh that opened this summer, Gatorland will also be opening the brand-new Gator Joe's Adventure Outpost and Stompin' Gator Off-Road Adventure in Fall 2017. Stompin' Gator Off-Road Adventure will take guests into a section of the park that has never been seen, running alongside the swamps that feed the headwaters of the everglades. Each of the three monster-style, off-road vehicles seats 12 riders, plus the driver, and is decorated to represent iconic alligators and crocodiles in Gatorland's rich history. Gator Joe's Adventure Outpost will be located in front of the Stompin' Gator Off-Road Adventure, and serve as the park's home base for reserving and purchasing all separately-ticketed park adventures, including the Stompin' Gator Off-Road Adventure, Screamin' Gator Zip Line, Adventure Hour, Gator Night Shine, and Trainer For The Day.
To learn more about alligators, crocodiles, reptiles and other animals, visit the 110-acre Gatorland theme park at 14501 S. Orange Blossom Trail, Orlando, FL 32837, open daily from 10 a.m. to 5 p.m. The park originally opened as a roadside attraction in 1949. Today, Gatorland provides affordably-priced family fun featuring thousands of alligators and crocodiles, breeding marsh with observation tower, free flight aviary, nature walk, petting zoo, educational wildlife programs, award-winning gift shop, Florida's best train ride, Gator Gully Splash Park, on site restaurant and one of a kind shows including Gator Wrestlin', Gator Jumparoo and Up-close Encounters.
Another not-to-be-missed adventure is the Screamin' Gator Zip Line with over 1,200 feet of high flying thrills, five intense zip lines, and a massive 150-foot suspension bridge. For more Gatorland information, visit us online at www.gatorland.com or call 800-393-JAWS. Find us on Facebook at www.facebook.com/gatorland, on Twitter @gatorland and on Instagram: gatorland_orlando https://www.instagram.com/gatorland_orlando/
Co-Owner / Webmaster / Business Relations / PT Writer
As co-owner and co-creator of The Main Street Mouse. Working in a technical support position for 18 years, it was time for a change. As the Webmaster and Project Planner, I spend most of my time researching everything from the latest Disney News, technology advances and of course keeping up on all the Marvel news that comes out. I never considered myself a writer but I've come to like blogging and sharing news with all. I feel blessed everyday that I get to spend my days working with my best friend and love of my life while we continue to grow and expand what started as a hobby all those years ago.