Spreading Disney Joy
As you know, on Thursday, we try to talk about things that make us feel uplifted. Acts of kindness, inspiration, general Disney happiness…… it's all part of the theme. Well tonight, I wanted to talk about sharing the Disney magic, spreading Disney joy, if you will.
I'm always trying to find new ways to get the magic out to our members, whether it's blog posts, videos, pictures, etc. Instagram has been a great way to do that too, it's fun to take photos and share them when we make it to the Parks. I always take extra pictures too, so I have more to share during the week. Well, last week we tried something new that made an even bigger impact! Live feeds on Facebook!
We started our first week of live feeds on a fantastic note, by broadcasting the Festival of Fantasy Parade last Monday. The response and reach we got from that was amazing. Our followers LOVED it, and honestly, I loved doing that for them. It made me want to do more. Fast forward to Friday, and we purposely went to Hollywood Studios with the intent on getting more live coverage for people. I had actually gotten some requests that people wanted to see the new Star Wars Launch Bay, so that was the first place I stopped. We hung around all evening so we could broadcast the Star Wars fireworks as well. The Parks have been so busy, being that it's Easter time, and I kept losing my phone signal. I felt horrible, because I knew people were counting on me, but with technology, there's only so much that's in my control. It worked out though and we were able to get the last few minutes of Symphony in the Stars, including the finale, so people were happy!
Saturday was our Magic Kingdom day. I again had requests for more live footage, and I planned to give them that, as long as my signal was ok. We went to the Contemporary to eat, then watched Wishes from the side balcony. I was a little disappointed with the feed because there was no music, but people seemed to enjoy it. Afterwards, we hauled ourselves back to the Magic Kingdom, because we had requests for footage of the Electrical Parade. We made it back over with time to spare, so I staked out a good spot near the train station. As the parade started, I was praying that the connection would stay good, because again, I didn't want to disappoint our viewers. Low and behold, the signal stayed the entire time, my view was spot on, and it went PERFECTLY. I got live footage of the entire Main Street Electrical Parade, and I seriously had tears in my eyes reading the comments. People were watching live from EVERYWHERE. I had viewers across the country. We also had Main Streeters tuned in overseas. From the UK, to Thailand, it was crazy. That clip reached over 200,000 people on Facebook, and my heart was full. How amazing is it that we could ALL watch the parade together, no matter where we were? I was so thankful that so many tuned in, and I was sure to say so once the parade was done.
I had thought about being done for the night once the Main Street Electrical Parade was finished, but I had requests for Celebrate the Magic. The late showing of the Castle show started at 11:15, so I walked back there and got a prime spot right in front. Once again, the comments and such were overwhelming. Afterwards, it was pretty late, but we were able to get right on the Haunted Mansion and Pirates of the Caribbean before heading home. Once I got home, I went back to see the reach and read the comments that I had missed, and again, I was so happy and surprised. I felt like we were able to connect on a whole new level with people, and it was the best feeling. Words don't even begin to describe how wonderful that is to me.
Spreading Disney magic is part of my job. I never take a day off from it, and I try my best to share whatever I can with our members. To me, the live feeds are a wonderful addition to what we do at The Main Street Mouse, and I'm so happy that we can watch Disney shows and such together now. Our Disney family just gets stronger, and I thank you all from the bottom of my heart for sticking by us all these years. The best is yet to come! Be sure to subscribe to our live feeds on Facebook if you haven't already. There is rain in the forecast for this weekend, but I'm going to try my best to get you more live footage from the parks, so stay tuned. Thank you all so much, it's appreciated! ~M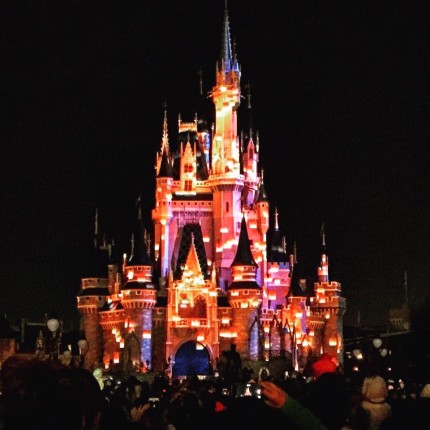 You can follow on Instagram at @cindershella4, @themainstreetmouse and @tmsmonthly
Snapchat at disprincessm
Twitter @mainstreetmouse @tmsmonthly @shellyshelshel
Michele Atwood is the Owner/Editor of The Main Street Mouse and it's subsidiaries and author of the book "Moving to Main Street U.S.A." Michele also contributes Disney news to the Joe Kelley Morning Show on 96.5 WDBO in Orlando. She and her family made the move from Michigan to the Orlando area to pursue their Disney dreams. Michele is a life long Disney fan, and has two sons who have followed suit, each going on their first Disney trip before their first birthday's. Part of the goal Michele has for The Main Street Mouse is not only to keep members informed, but to create somewhat of a Disney Family by relating to others through personal experiences and opinions. Also, Michele is making it a priority to share stories of inspiration and hope to other Disney Fans in an effort to share the Magic and hopefully make a difference in the lives of others.