From Mouse to Marquee: Act 5, Scene 3: How Broadway's Mary Poppins was different from Hollywood's Mary Poppins
Hey there Main Streeters! This week I want to take a look at some of differences between the stage adaptation and film Mary Poppins. I resisted the Mary Poppins stage musical because I LOVE Julie Andrews and didn't think that anyone could come close to her practically perfect turn as the flying nanny. But when my best friend saw the show on tour a few years ago, one of the things she said was that the stage musical was different enough from the movie to not need to compare the two.
Some things from the movie were just impractical on stage and were cut all together, including the dancing penguins in "Jolly Holiday" and the tea party on the ceiling at Uncle Albert's. Instead of dancing penguins, statues come to life in "Jolly Holiday" and the scene at Uncle Albert's was replaced with a scene in a candy store. Both of these instances have been taken from the books that Mary Poppins were based on.
Another change in the show is that Jane and Michael are much more mischevious, often answering back and fighting. Additionally, the Banks' are a more dysfunctional married couple, and George Banks is expanded as a character, with a back story about his difficult childhood and his nanny who was the exact opposite of Mary Poppins. Additionally, Winifred Banks is no longer a suffragette, and thus "Sister Suffragette" was cut from the production. Instead, Winnifred is a former actress struggling to fill the domestic expectations George Banks has in mind for her. Finally, there is no run on the bank caused by Michael, and George Banks is not fired as a result.
A number of the songs from the movie remain, but some have been modified to reflect story changes including "A Spoonful of Sugar", now appearing later in the show as there is no tidying of the nursery. Also, "Supercalifragilisticexpialidocious" does not appear in the park outing, but rather in the new scene in the sweet shop that replaced "I love to Laugh". "Feed the Birds", often touted as Walt's favorite song, is now sung after the bank visit, instead of before. "Let's Go Fly a Kite" appears earlier, rather than as the finale.
These are just a few of the changes from screen to stage. Next week I'll share some videos of the show with you before we move on to Act 6. Stay tuned!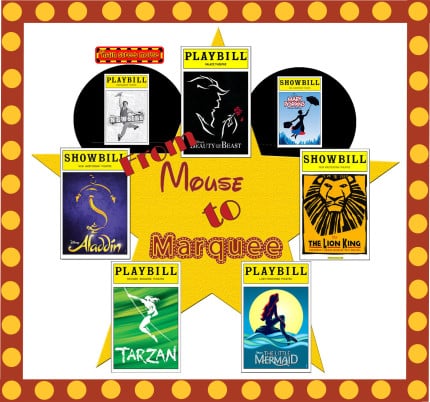 TMSM is thrilled to give it's readers a chance to experience it's new series "From Mouse to Marquee" written by Addie Clark. If you have missed out on any segments of "Mouse to Marquee" you can find them all here in our archives!